Chemical name:2,2'-methlylene-bis(4,6-ditertbutylphenol)
Molecular formula : C29H44O2
Molecular weight : 424.65
Structural formula :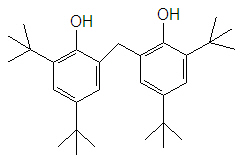 Physical and chemical properties:White powder, relative density 1.04,insoluble in water, soluble in alcohol and other organic solvents.
Use:Antioxidant properties of antioxidant 2246 – A is similar to antioxidant 2246, can be equally used.
Packing: The outer packing is kraft paper compound bag, the inner packing is plastic bag , each bag gross weight is 20 kg or 25 kg. Storing and transporting according to the general chemicals.
Annual production :500 tons